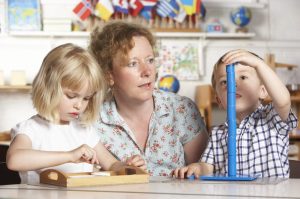 Child Care Aware® of Kansas strives to ensure that families have access to affordable, high-quality child care.  We lead projects, support trainings, and advocate for positive changes that impact the lives of children and families.
Our Vision
All communities across Kansas value and support early childhood development.
Our Mission
High-quality early education is available to all Kansas families and children.
Goals
Provide statewide leadership on child care issues
Develop a skilled early childhood workforce
Provide services that build the local child care system
Provide consumer education about affordable, quality child care
Provide financial and educational support to the early childhood field
Outcomes
Increase Advocacy Efforts that Impact Quality, Accessibility and Affordability: Identify and solve issues with the supply, demand, cost and quality of child care in Kansas through advocacy efforts.
Improve the Quality of Care and Education: Promote professional knowledge and skills for child care professionals and programs through professional development, resources, and technical assistance.
Build the Supply: Respond to gaps in the child care market by supporting recruitment and retention activities and by developing community partnerships.
Increase Family Awareness: Ensure that families have the information they need to make informed choices about all aspects of care for their children.
Enhance Employer Engagement: Support local CCR&R efforts to engage the business community as a partner in supporting child care and the needs of their employees.