Healthy Kansas Kids is a project administered by Child Care Aware® of Kansas and CCR&Rs that provides technical assistance and professional development events related to physical activity and nutrition to you. Since 2006, Healthy Kansas Kids has focused on obesity prevention with support from United Methodist Health Ministry Fund, a Kansas philanthropy focused on the health of all Kansans.
Brand New Resources!
This flyer provides a whole alphabet of delicious, healthy recipes that are easy to prepare and require few ingredients.

Healthy Moves from A to Z
See how you can use simple prompts to inspire daily physical activity in young children.
Professional Development Events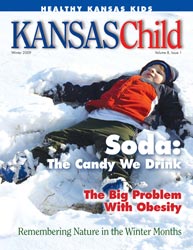 A number of professional development events have been developed focusing on physical activity and nutrition, including:
Let's Move Learn and Have Fun!
Healthy Habits Grow Healthy Children
Food, Fun and Fitness: It's Berry, Berry Good
Pick A Better Snack: Go for the Whole Grains
Active Play Area Design
Healthy Kansas Kids & Active Families
We Like to Move It
Power Up with Healthy Snacks
Healthy After School Kids & Active Families
Researchers have completed several evaluations that reveal the positive impact of the Healthy Kansas Kids project. Â Annual evaluations are available in the Initiatives & Collaborations section.