Services for Child Care Programs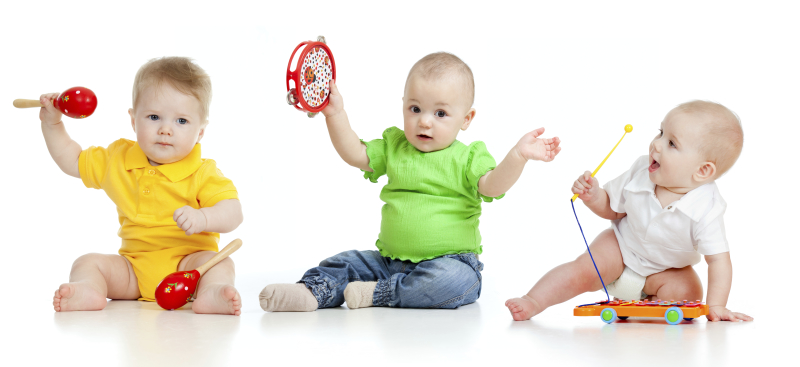 Child Care Provider Texting Program
Information at your fingertips!
Parents and Child Care Providers, enroll today and receive the latest early childhood and/or parenting information, updates, tips and activity ideas. Topics include child development, healthy recipes, safe sleep, outdoor activities, emergency planning, and MORE!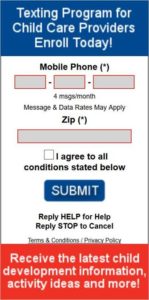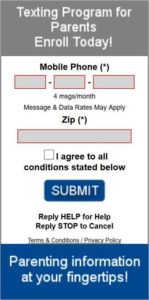 Parents: Click image to register
Providers: Click image to register
Breastfeeding Friendly Child Care Designation Recipients
Abilene
Learn and Grow Depot
Altoona
Cindy Wickham's Day Care Home
Bonner Springs
McDaniel Early Childhood Center
Chapman
Stepping Stones Daycare, Chapman
El Dorado
Butler Community College EduCare
Ellsworth
Ellsworth Childcare and Learning Centers
Haysville
A Step Ahead
Hutchinson
Anette's Little Angels Day Care Home
Independence
Amy's Agapeland
Junction City
Loving Arms Daycare Centers, Inc.
Kansas City
Tender Hearts, Inc.
Kingman
Desiree's Child Care
Lenexa
Children's Treehouse Learning Center
Tender Hearts, Inc.
Maize
Happy Day Academy
Manhattan
Creche at Heritage Square
Creche Day School
Hope Lutheran Early Learning Center
Munjor
Early Childhood Connections
Olathe
Erin Rae Stephenson Daycare
Imagination Station Family Childcare
Little Blessings Daycare
Prairie Center Christian Child Care
Prairie Village
Joan E. Seitz Day Care Home
Scammon
Julianna's Daycare
Sedgwick
Becca's Daycare
Shawnee
Tender Hearts, Inc.
Thayer
Anna Gindlesberger Day Care Home
Topeka
Christ the King Early Education Center
Security Benefit Academy, Inc.
Wichita
Academy of Learning
Adventure Planet 1
Envision Child Development Center
Kiddie Cove
Kids World Childcare Center
Little Adventurers Day Care Home
Loving Arms Child Care Center
Open Arms Lutheran Child Development Center
Paula White Daycare
Small Wonders Daycare
Wichita State University Child Development Center
Contact us for:
Personal support such as FREE business support, tips on marketing strategies, onsite topic-driven visits, and an online virtual tour of your program.
FREE information including a bi-monthly newsletter, lending library resources, and low cost training opportunities.
Opportunities to connect with others in the field, including peer learning community meetings and Facebook and Twitter posts.

Services Overview


What is CCR&R?
Kansas/Missouri Core Competencies-The first edition of the Core Competencies for Early Childhood and Youth Development Professionals in Kansas and Missouri combines the knowledge and skills outlined in previous versions of the Kansas & Missouri Core Competencies for Early Care and Education Professionals (2001) and Kansas & Missouri Core Competencies for Youth Development (2006). Core Competencies are the framework that defines standards for early childhood and youth development professionals and what you need to know to provide quality activities and interactions.

View Core Competencies


View Core Competencies in Spanish
Careers in Early Childhood Education: A Kansas Guide – A unique resource that highlights a variety of careers in the early childhood field that will assist individuals in planning their career path or finding detailed information about furthering their education.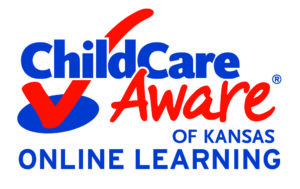 2019 Career Guide
Professional Development

Professional Development Training


Online Learning
For information about Quality Initiative Projects, click here