Child Care Quality Indicators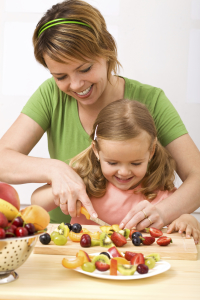 Here are some basic quality indicators to consider when looking for child care:
Health and Safety: Kansas Licensed programs (both centers and family child care homes) meet health and safety standards. For a KDHE Child Care and Early Education Portal Online Facility Compliance Search, CLICK HERE. Utilize this link to review the licensing history, substantial complaints or current non-compliance issues, of a child care facility regulated by KDHE.
Group Size/Ratio: Some children thrive in a large group setting, while others need the quiet and comfort of a smaller group. You should look for an environment that most closely matches your child's personality and needs. The younger the child, the more one-on-one care he/she may need. Find out what the child/adult ratio is in each child care facility you visit.
Family Involvement: Quality programs work closely with parents to ensure that they are kept informed about their child's development, and that they offer family members both planned and unplanned opportunities to observe and participate in activities.
Caregiver Education and Turnover: An important indicator of quality is the level of education and continuing professional development that the child care provider has obtained. In addition, low staff turnover provides consistency of care for the children.
Accreditation: Generally, being an accredited child care program means they comply with national standards of high-quality. For additional information, find out if the program has any of the following accreditations and then click on the appropriate link below.
Additional Resources:
Breastfeeding Friendly Child Care Designation Recipients
BREASTFEEDING FRIENDLY CHILD CARE DESIGNATION RECIPIENTS
Altoona
Cindy Wickham's Day Care Home
Bonner Springs
McDaniel Early Childhood Center
Chapman
Stepping Stones Daycare
Ellsworth
Ellsworth Childcare and Learning Centers
Hutchinson
Anette's Little Angels Day Care Home
Independence
Amy's Agapeland
Junction City
Loving Arms Daycare Centers, Inc.
Kansas City
Tender Hearts, Inc.
Lenexa
Children's Treehouse Learning Center
Tender Hearts, Inc.
Manhattan
Creche at Heritage Square
Creche Day School
Hope Lutheran Early Learning Center
K-State Center for Child Development
Munjor
Early Childhood Connections
Olathe
Little Blessings Daycare
Salina
Little Rays of Sunshine
Little Blessings Childcare
Scammon
Julianna's Daycare
Shawnee
Tender Hearts, Inc.
Thayer
Anna Gindlesberger Day Care Home
Topeka
Christ the King Early Education Center
Security Benefit Academy, Inc.
Wichita
Academy of Learning
Adventure Planet 1
Envision Child Development Center
Kids World Childcare Center
Little Adventurers Day Care Home
Open Arms Lutheran Child Development Center
Paula White Daycare
Small Wonders Daycare
Wichita State University Child Development Center