Family Education Materials
Knowing what to expect from a child and activities to engage his/her mind and interests are important! We are continually developing new resources. Check out some of our more popular ones below:
PARENT & FAMILY TEXTING PROGRAM

Receive Parenting Tips! Text KSKIDS to 59925
Parents enroll today and receive the latest early childhood and/or parenting information, updates, tips and activity ideas. Topics include child development, healthy recipes, safe sleep, outdoor activities, emergency planning, and MORE!
Parents: Click image to register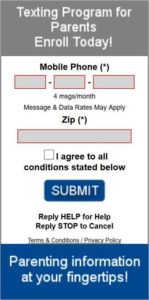 FAMILY EDUCATION MATERIALS
CCR&R Services
Child Development
Choosing Quality Child Care
Community Resources
Emergency Preparedness
Family Engagement
 Health
Infants
Nutrition
Physical Activity
Preschool
Referral Services
Safety
School Age
School Readiness
Social Emotional
Toddlers
EARLY CHILDHOOD WELLNESS NEWSLETTERS