Kansas Child magazine is intended to provide a forum for the discussion of child care and early education issues and ideas. We hope to provoke thoughtful discussions within the field and to help those outside the field gain a better understanding of priorities and concerns. The views expressed by the authors are not necessarily those of Child Care Aware® of Kansas or their sponsors.
Want to start receiving Kansas Child magazine?

Kansas Child is digital! You can have access to Kansas child for FREE!
You'll still have access to valuable information, helpful tips, and interesting reads. Whether you are a child care provider, parent, teacher or community member, there is something for everyone to be found in Kansas Child!
You'll soon discover why Kansas Child magazine is Kansas favorite resource for information on young children!
Want to advertise your business or organization in Kansas Child magazine?
Click here to print an advertising rates form.
Current Issue: Designing Child Care Solutions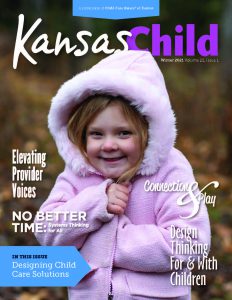 Designing Child Care Solutions
Available Now!
Past Issues of Kansas Child magazine:
Information and data contained in past issues was accurate at the time of printing.

Kansas Child Fall 2020 – Navigating the Unexpected 


Kansas Child Summer 2020 – Nurturing Young Bodies and Minds


Kansas Child Spring 2020 – Infant Toddler


Kansas Child Winter 2020 – Connecting with Families


Kansas Child Fall 2019 – The Power of Yet


Kansas Child Winter 2018–Public Health


Kansas Child Fall 2017–Family Engagement


Kansas Child Summer 2017–Leadership Development


Kansas Child Spring 2017–Emergency Preparedness


Kansas Child Winter 2017–Oral Health Kansas


Kansas Child Summer 2016–Summer Fun and Safety


Kansas Child Winter 2016 – 25th Anniversary – Child Care Supply and Demand


Kansas Child Fall 2016–Kansas Action for Children