World Health Organization declared Monkeypox to be a Public Health Emergency
On July 23rd, the World Health Organization declared Monkeypox to be a Public Health Emergency. Shortly following this announcement, the United States declared a National Health Emergency on August 4th. For decades, Monkeypox has spread in Central and Western Africa. It is a close relative of Smallpox, a disease that was declared eradicated by the World Health Organization in 1980. Vaccines and treatments that exist for Smallpox are likely to be effective against Monkeypox as well. The Biden administration's emergency declaration will allow the Food and Drug Administration (FDA) to authorize measures to prevent, diagnose, or treat Monkeypox without having to follow the agency's usual lengthy review. It also gives the Centers for Disease Control and Prevention (CDC) more access to case reporting data nationwide.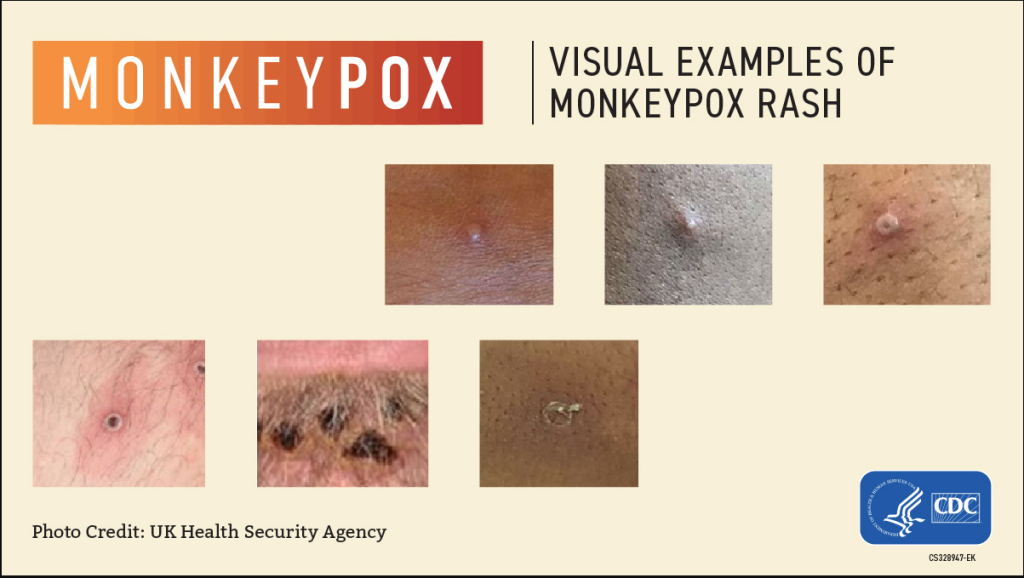 Symptoms & Signs of Monkeypox
While rarely fatal, Monkeypox can be incredibly painful. Symptoms usually appear one to two weeks after infection and range from mild to severe including: fever, headache, muscle and back aches, swollen lymph nodes, chills, sore throat, nasal congestion, or cough. A characteristic rash can develop on the face, inside the mouth, on hands, feet, chest, genitals, or anus. The lesions that appear look like pimples or blisters, depending on the stage of the rash. Some people may have all these symptoms, and some may only experience the rash. The illness typically lasts 2-4 weeks, and the rash progresses through multiple stages before crusting over and then completely healing.
Monkeypox is spread through direct person-to-person contact or through indirect contact with contaminated objects or linens. Examples of contaminated objects that could cause transmission are soiled linens, towels, or shared clothing. Transmission can occur through contact with the rash, scabs, or fluid from the blisters that form during infection. Monkeypox can also spread through respiratory secretions during prolonged face-to-face contact. This disease can be transmitted during sexual activity due to the nature of skin-to-skin or close body contact, but it is not exclusively transmitted through sexual activity. A person is considered contagious from the time symptoms start until the rash has fully healed and a new layer of skin has formed. The CDC recommends vaccination for people who have been exposed to Monkeypox. The CDC urges anybody who has symptoms of Monkeypox to talk with their healthcare provider even if they do not think they have encountered someone who has Monkeypox.
Monkeypox in Early Child Care Environments
General hygiene guidelines such as sanitizing, disinfecting, and excluding for signs/symptoms of illness in the Early Child Care Environment are still effective ways to prevent disease transmission. Daily wellness checks should be performed, and children excluded for any symptoms as outlined in the KDHE Guidelines for Exclusion. Per these guidelines, a child should be excluded for any rash of unknown origin until a physician determines the rash to be noncontagious. Continue following and encouraging hand hygiene practices and cough and sneeze etiquette amongst adults and children. It is also a good idea to develop and follow a regular cleaning and disinfecting schedule for your entire facility. This includes regular laundering or removal of dress up clothing from dramatic play areas and keeping children's clothing and bedding separated in cubbies or compartments.
Contact Your Child Care Health Consultant
For assistance reviewing your illness and exclusion policy, or developing a cleaning plan specific to your daycare, you can contact Child Care Health Consultants at (785) 823-3343 and request to speak with the Nurse Consultant in your area, through our website at www.ks.childcareaware.org, or by emailing cchc@ks.childcareaware.org.
References: