Cooking Stimulates the Senses
Cooking with children can be both fun and exhausting! Despite the time and patience required, making snacks or meals with your kids pays off for everyone involved.
Children use just about every developmental domain when they help out in the kitchen. Cooking stimulates all five senses, which is important for learning. While making a recipe, kids practice math, reading, language, fine motor skills, following directions, sequencing, basic chemistry, and nutrition. Plus, cooking is an essential life skill they'll need when they become adults.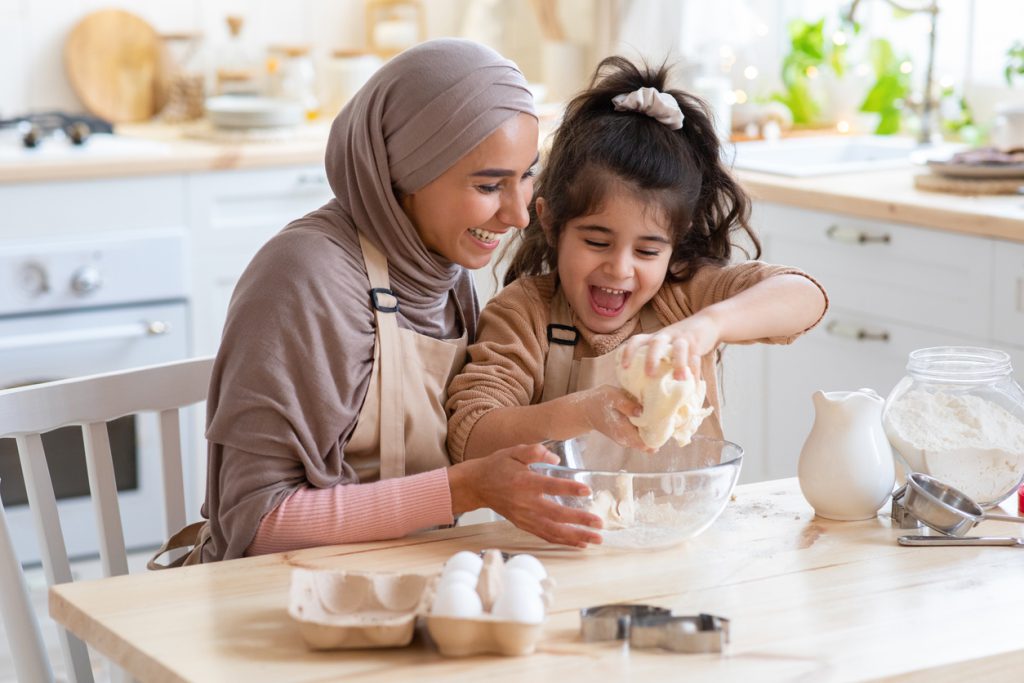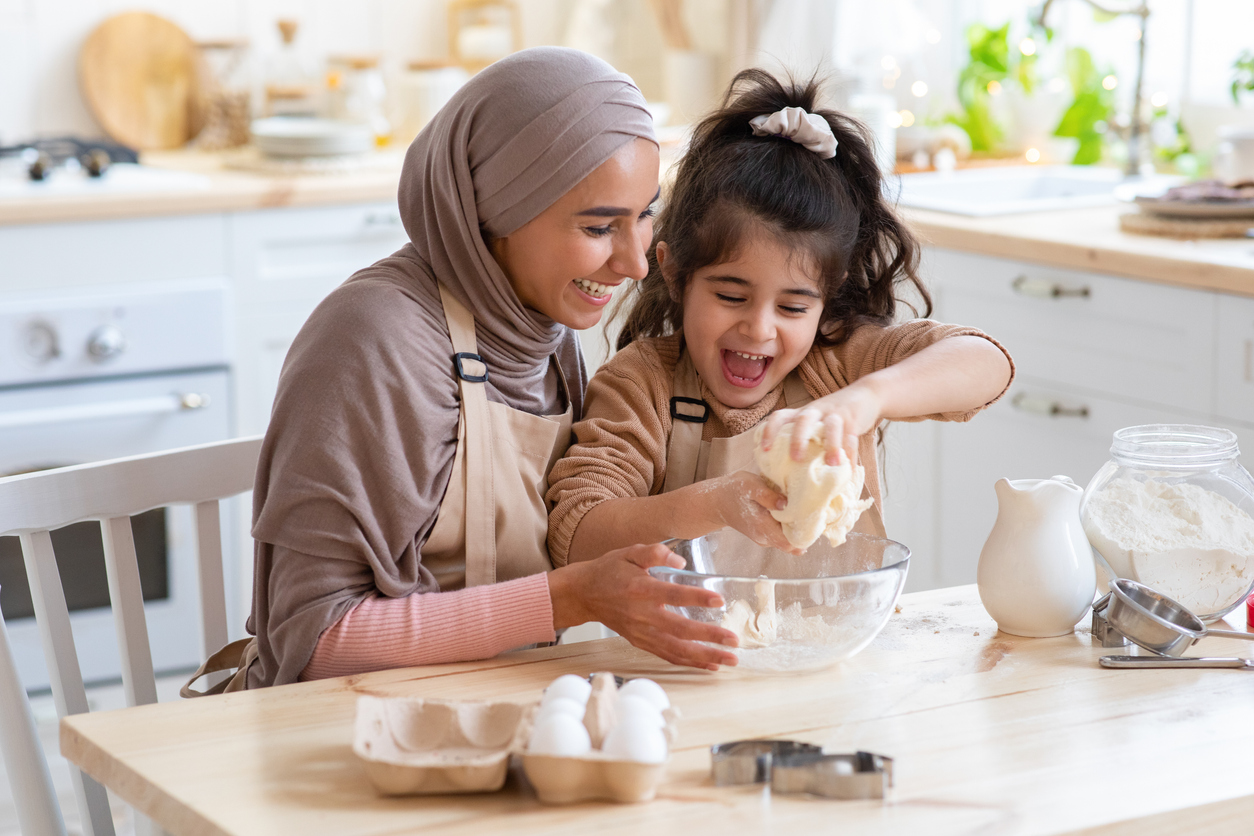 Cooking with Children Combats Picky Eating
Researchers have found that children are more likely to eat foods they choose themselves or help prepare in the kitchen.
and include them in meal preparation tasks. Have your picky eater choose a recipe and then make it together.
When you're cooking with kids, keep these tips in mind:
Plan ahead
Allow plenty of time
Use child-friendly recipes
Be patient
Have a sense of humor
Bring your sense of adventure
Practice good hygiene by washing your hands frequently
Tips for Cooking with Children
As summer gets going, mark a few days on your calendar to spend cooking with your kids. When the day arrives, make sure you have everything you need before you get started.
For young children, choose a recipe with fewer ingredients and simple directions. As children mature and gain more skills in the kitchen, they can make side dishes with supervision. Teenagers can even prepare entire meals once in a while. It's good practice for when they are living on their own. Working hard to produce a meal increases their self-esteem.
Set up as much as you can ahead of time, especially for younger kids. Older children can help with the set-up. As a rule: The more organized you are, the less stressful cooking will be.
Allow plenty of time to make the recipe — more than you think you'll need — so no one feels rushed. If the kids are fairly young, cater to their shorter attention spans by preparing some ingredients or stages of the recipe ahead of time.
Expect a mess! The children can help clean up after themselves, which is also a life skill.
How Children Can Help in the Kitchen
As the parent or child care provider, you know your children and their skills. Use your best judgment about what they're capable of and make sure to stay close for safety.
Here are a few things children can help with in the kitchen:
Sorting and putting away food
Collecting ingredients from the pantry or refrigerator
Washing fruits and vegetables
Tearing lettuce
Measuring ingredients
Sifting dry ingredients
Pouring liquids
Stirring
Arranging food on a serving dish
Setting the table
Creating a centerpiece
Wiping counters and tables
Washing nonbreakable items
So, go ahead and make some memories this summer by cooking with children. Remember that it's not about the end product but the fun you have and the time you spend together.
Serves: 1
Fruits and Vegetables: ¾ cup per serving
Nutrition Facts: Serving size: 1 bowl (about 2 cups); Calories: 250; Carbohydrates: 54 g; Fiber: 8 g; Fat: 3.5 g; Saturated fat: 0.5; Sodium: 10 mg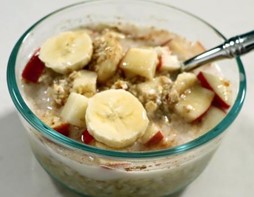 Ingredients
½ cup dry rolled oats
1 cup water
½ cup banana, sliced
½ cup apple, chopped (with skin on)
½ teaspoon cinnamon
Directions
Remember to wash your hands!
Wash and prepare the fresh fruit.
Combine all ingredients in a microwave-safe bowl, mix, and cover.
Let the bowl sit in the refrigerator overnight.
In the morning, heat the bowl in the microwave on high for 1 minute. Oatmeal can also be eaten cold.
Tips
Serve with a little milk and a drizzle of maple syrup.
Substitute milk, soy milk, or almond milk for the
Experiment with different fruits, such as peaches, berries, or pineapple.
Serves: Approximately 12 one-inch balls
Nutrition Facts: Serving size: 1 bite; Calories: 180; Carbohydrates:16 g, Fiber: 3 g; Fat: 12 g; Saturated fat: 3 g; Sodium: 65 mg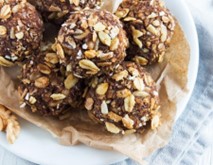 Ingredients
⅔ cup creamy peanut butter or sunflower seed butter
½ cup semi-sweet chocolate chips
1 cup old fashioned rolled oats
½ cup flax seeds, ground
2 tablespoons honey
Directions
Remember to wash your hands!
Combine all ingredients in a medium-sized bowl and stir until combined.
Cover the bowl and place in the refrigerator for 15-30 minutes. Dough will be stiff and easier to handle.
Using the palms of your hands, roll the dough into small round balls. You should have 12 bites.
Store the Energy Bites in a covered container in the refrigerator and eat within one week.
Tips 
Add raisins or dried cranberries for a touch of sweetness.
Use natural or no-sugar-added peanut/nut/seed butter.
Do not feed honey to children under age 1.
Serves: 8
Fruits and Vegetables: ¼ cup per serving
Nutrition Facts: serving size about 1 cup; Calories: 200; Carbohydrates: 29 g; Fiber: 1 g; Fat: 3.5 g; Saturated fat: 2 g; Sodium: 290 mg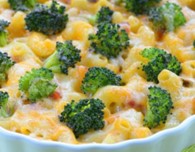 Ingredients
2 cups whole-wheat elbow pasta, uncooked
4 tablespoons flour
2 cups milk, low-fat or fat-free
2 cups cheddar cheese, reduced-fat, shredded
½ teaspoon pepper, ground
2 cups cooked broccoli, chopped
Directions
Remember to wash your hands!
Cook pasta until tender, following directions on package.
Drain cooked pasta and return to pan. Sprinkle flour over pasta while it is still warm. Toss thoroughly.
Reheat the pan to medium heat.
Slowly stir in milk, cheese, and pepper.
Cook, but do not boil, until the milk and cheese thicken into a creamy sauce (approximately 7 to 10 minutes).
Stir in broccoli and heat thoroughly.
Tips
Substitute another favorite vegetable for broccoli.
More Kid-Friendly Recipes