Originally published in the Summer 2023 issue of Kansas Child Magazine. 
What to Know About Seat Belts When You're Expecting
Did you know that your baby's safety is at risk before their first ride in a car seat? The moment you buckle your seat belt around you and your unborn baby, you are increasing the chance that both of you get home safe.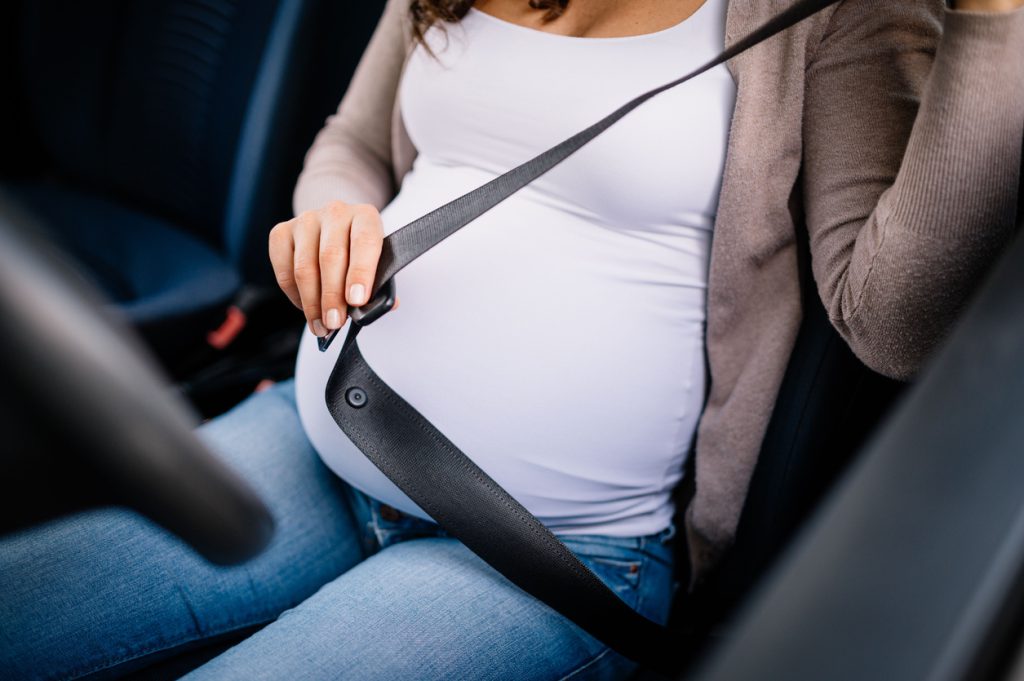 A Properly Fitting Seatbelt Can Save Your Life
Many women are hesitant to use their seat belt out of concern that it could hurt the developing fetus during a crash. However, you are nearly 18 times more likely to be ejected from the vehicle if you are unbelted. And, if you're ejected, you are four times more likely to die during a crash. A properly fitted seat belt offers your best chance of surviving a vehicle crash and reducing serious injury to both mother and child.
Seatbelts are Required by Kansas Law
Kansas law requires everyone in a vehicle to wear a seat belt. There are no exceptions for pregnancy. But it's important to know the right way to wear your seat belt when you're buckling up for two.
Position your seatbelt low, under the belly and across the hip bones, with the shoulder belt laying across the chest and over the collar bone.
Never place the shoulder portion of the seat belt under your arm or behind your back. Seat belts are designed to contact the body at its strongest points. A misplaced belt could damage soft tissue and more fragile bones, like your ribs, or leave you with no upper body restraint, which can lead to traumatic brain injuries, as well as neck and spinal cord injuries.
Give a tug and keep it snug, eliminating any slack in the seat belt.
Keep as much distance as possible between your belly and the steering wheel while ensuring you can still comfortably reach the steering wheel and pedals. Don't allow your belly to touch the steering wheel.
If your vehicle has an on-off switch for the air bags, leave them on. Seat belts and air bags are designed to work together to provide the best level of protection.
Seatbelts and Pregnancy - Important Things to Consider
So what should you do if a crash unexpectedly occurs? If you're involved in a crash as either a driver or a passenger, it's a good idea to get checked out by your obstetrician or another medical doctor just to be on the safe side, even if there are no obvious signs of injury.
Beware of unregulated products that are sold under the premise of making seat belts safer by changing how the seat belt fits pregnant bodies. Don't be fooled! By changing the positioning of the seat belt, these products alter how crash forces are spread across the body in a way that is not tested by the vehicle manufacturer. In fact, vehicle manufacturers say not to use such devices.
Unregulated products may claim that they are tested, but they have no existing federal safety standards to meet and may even increase injury risk during a crash. Keep it simple and use the seat belt the way it was tested and designed to work.
Seat Belt Recommendations for Drivers and Passengers
So, buckle up, baby! And, while you're keeping you and your child safe on the road, plan ahead to get your baby's car seat checked four to six weeks before your due date. To find a car seat station near you, visit www.kansascarseatcheck.org.
See more seat belt recommendations and helpful illustrations at  safekidskansas.org/child_passenger.htm.
Find additional family and caregiver resources here.